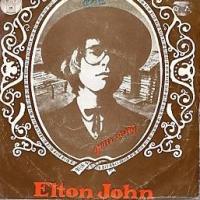 Letra y vídeo de Your Song
It's a little bit funny this feeling inside
I'm not one of those who can easily hide I
Don't have much money but boy if I did
I'd buy a big house where we both could live
If I was a sculptor but then again no
Or a man who makes potions in a traveling show
Oh I know it's not much but it's the best I can do
My gift is my song
And this one's for you
And you can tell everybody this is your song
It may be quite simple but now that it's done
I hope you don't mind
I hope you don't mind
That I put down in words
How wonderful life is while you're in the world
I sat on the roof and kicked off the moss
Well a few of the verses well they've got me quite cross
But the sun's been quite kind
While I wrote this song
It's for people like you that
Keep it turned on
So excuse me forgetting
But these things I do
You see I've forgotten
If they're green or they're blue
Anyway the thing is what I really mean
Yours are the sweetest eyes I've ever seen
And you can tell everybody this is your song
It may be quite simple but
Now that it's done
I hope you don't mind
I hope you don't mind
That I put down in words
How wonderful life is while you're in the world
I hope you don't mind
I hope you don't mind
That I put down in words
How wonderful life is while you're in the world
Sobre Your Song
El tema fue compuesto por Elton John con letra de Bernie Taupin en 1970 y se incluyó en su segundo album de estudio, 'Elton John'. Este homenaje al amor se ha convertido en todo un himno versionado por decenas de artistas, entre los que se encuentra Lady Gaga. 'Your Song' logró colocarse como el número ocho en la lista de Billboard Hot 100 y años más tarde fue catalogada por los críticos como "una canción casi perfecta".
Bernie Taupin declaró: "Los primeros no fueron extraídos de la experiencia, sino de la imaginación. Tu canción sólo pudo haber sido escrita por un chico de 17 años que no había tenido sexo en su vida".
En una entrevista de 2013 con Rolling Stone, dijo: "Qué puedo decir, es una canción perfecta. Se pone mejor cada vez que la canto. Recuerdo que lo escribí en el apartamento de mis padres en el norte de Londres y Bernie me dio la letra, se sentó al piano, la miró y dijo: 'Oh, Dios mío, esta es una gran letra, no puedo arruinarla'. Salió en unos 20 minutos y cuando terminé, lo llamé y ambos lo supimos. Yo tenía 22 años y él 19, y eso nos dio mucha confianza. Empty Sky fue encantador, pero muy ingenuo. Seguimos haciendo cosas más esotéricas como 'Take Me to the Pilot', por supuesto, pero musicalmente, este fue un gran paso adelante. Y cuanto más viejo me hago, más canto estas letras, y más resuenan conmigo".