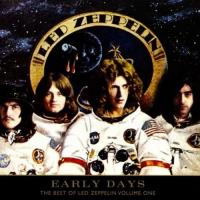 'The Battle Of Evermore' se estrenó el . Esta canción está incluida dentro del disco Early Days.
LETRA
Queen of Light took her bow
And then she turned to go,
The Prince of Peace embraced the gloom
And walked the night alone.
Oh, dance in the dark of night,
Sing to the morning light.
The dark Lord rides in force tonight
And time will tell us all.
Oh, throw down your plow and hoe,
Rest not to lock your homes.
Side by side we wait the might
Of the darkest of them all.
I hear the horses' thunder
Down in the valley blow,
I'm waiting for the angels of Avalon,
Waiting for the eastern glow.
The apples of the valley hold,
The seas of happiness,
The ground is rich from tender care,
Repay, do not forget, no, no.
Oh, dance in the dark of night,
Sing to the morning light.
The apples turn to brown and black, the tyrant's face is red.
Oh the war is common cry, pick up you swords and fly.
The sky is filled with good and bad
That mortals never know.
Oh, well, the night is long, the beads of time pass slow,
Tired eyes on the sunrise, waiting for the eastern glow.
The pain of war cannot exceed
The woe of aftermath,
The drums will shake the castle wall,
The ring wraiths ride in black, ride on.
Sing as you raise your bow,
Shoot straighter than before.
No comfort has the fire at night
That lights the face so cold.
Oh dance in the dark of night,
Sing to the mornin' light.
The magic runes are writ in gold
To bring the balance back, bring it back.
At last the sun is shining, the clouds of blue roll by,
With flames from the dragon of darkness
The sunlight blinds his eyes.
Sobre The Battle Of Evermore
Esta canción es notable dentro del catálogo de Led Zeppelin por ser la única canción que la banda grabó con un vocalista invitado. Robert Plant comparte la voz principal con la cantante de folk Sandy Denny, miembro de la banda de folk británica Fairport Convention (con quien Led Zep había compartido la facturación en el Festival de Blues y Música Progresiva de Bath en 1970).
Debido a su temática tolkiana, la canción suena instrumentalmente muy medieval o celta.
Apoyar a Led Zeppelin
Led Zeppelin está en la posición 234 del ranking de esta semana, su mejor puesto ha sido el 163º en enero de 2013.

¿Apoyar a Led Zeppelin?

Ranking SemanalMedallero