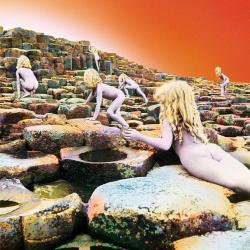 The Song Remains The Same
Letra
LETRA
The Song Remains The Same (Letra/Lyrics)
I had a dream
Oh, yeah
Crazy dream, uh-huh
Anything I wanted to know
Any place I needed to go
Hear my song
Yeah, people don't you listen now?
Sing along
Oh
You don't know what you're missing, now
Any little song that you know
Everything that's small has to grow
And it's gonna grow, push push, yeah
Oh-oh-oh-oh-oh, California sunlight
Sweet Calcutta rain
Honolulu starbright
The song remains the same
Ooh, ooh, oh, oh
Here we go, here we go
All you gotta do, now
All you gotta do, now
Ooh-ee
Sing out Hare-Hare
Ooh, dance the Hoochie-Koo
City lights are oh so bright, as we go sliding, sliding
Sliding, sliding, sliding, sliding, sliding, sliding
Oh
Datos de The Song Remains The Same
THE SONG REMAINS THE SAME es una canción de Led Zeppelin que se estrenó el , este tema está incluido dentro del disco Houses of the Holy.
Sobre The Song Remains The Same
Led Zeppelin abrió su álbum de 1973 con esta oda al poder de la música. El guitarrista Jimmy Page reveló en una entrevista que el tema era originalmente un instrumental llamado "The Overture", y el título de trabajo era "The Campaign" antes de que decidieran por el nombre definitivo.