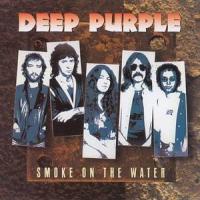 Smoke On The Water
en español
Añadir a Favoritas
Guardar en Playlist
SMOKE ON THE WATER es una canción de Deep Purple del año 1972, este tema está incluido dentro del disco Machine Head.
Smoke On The Water (en español)
Todos salieron a montreux
On the lake geneva shoreline Sobre la costa del lago de Ginebra
To make records with a mobile Para realizar los registros
con un móvil
We didnt have much time We didnt tienen mucho tiempo
Frank zappa and the mothers Frank Zappa y las madres
Were at the best place around Están en el mejor lugar en torno a
But some stupid with a flare gun Pero algunos estúpido con
una bengala pistola
Burned the place to the ground Quemaron el lugar con el suelo
Smoke on the water, fire in the sky Humo en el agua, el
fuego en el cielo
They burned down the gambling house Incendiaron la casa de
juegos de azar
It died with an awful sound Se murió con un sonido terrible
Funky claude was running in and out Funky claude se ejecuta
dentro y fuera
Pulling kids out the ground Tirando de los niños de la tierra
When it all was over Cuando todo había terminado
We had to find another place Teníamos que encontrar otro lugar
But swiss time was running out Pero suizo tiempo se está acabando
It seemed that we would lose the race Dio la impresión
de que perdería la carrera
Smoke on the water, fire in the sky Humo en el agua, el
fuego en el cielo
We ended up at the grand hotel Terminamos en el gran hotel
It was empty cold and bare Se vacía frío y desnudo
But with the rolling truck stones thing just outside
Pero con el camión de piedras que rodando a las afueras
Making our music there Haciendo nuestra música existe
With a few red lights and a few old beds Con unas pocas
luces rojas y algunas viejas camas
We make a place to sweat Hacemos un lugar para el sudor
No matter what we get out of this No importa lo que salir de esta
I know well never forget Sé bien nunca se olvidará
Smoke on the water, fire in the sky Humo en el agua, el
fuego en el cielo
Sobre Smoke On The Water
Puede que contenga el riff más repetido de la historia del rock. Los acontecimientos descritos alrededor de ese mágico sonido son bien conocidos: un incendio declarado durante un concierto de Frank Zappa en el Festival de Jazz de Montreux. De hecho, la canción narra de forma bastante explícita el incidente. Formó parte del disco de 1972 «Machine Head», aunque la versión más famosa es la que se incluyó en «Made in Japan», del mismo año.