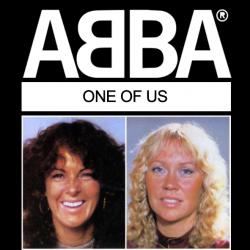 LETRA
One Of Us (Letra/Lyrics)
They passed me by, all of those great romances
You were, I felt, robbing me of my rightful chances
My picture clear, everything seemed so easy
And so I dealt you the blow
One of us had to go
Now it's different, I want you to know
One of us is crying
One of us is lying
In her lonely bed
Staring at the ceiling
Wishing she was somewhere else instead
One of us is lonely
One of us is only
Waiting for a call
Sorry for herself, feeling stupid feeling small
Wishing she had never left at all
I saw myself as a concealed attraction
I felt you kept me away from the heat and the action
Just like a child, stubborn and misconceiving
That's how I started the show
One of us had to go
Now I've changed and I want you to know
One of us is crying
One of us is lying
In her lonely bed
Staring at the ceiling
Wishing she was somewhere else instead
One of us is lonely
One of us is only
Waiting for a call
Sorry for herself, feeling stupid feeling small
Wishing she had never left at all
Never left at all
Staring at the ceiling
Wishing she was somewhere else instead
One of us is lonely
One of us is only
Waiting for a call
Datos de One Of Us
ONE OF US es una canción de Abba que se estrenó el , este tema está incluido dentro del disco The Visitors .
Sobre One Of Us
"One of Us", el gran éxito de ABBA y su single No. 1 en muchos países, fue una de las últimas canciones escritas para su álbum "The Visitors".
Esta canción abre todos los episodios del programa de radio Beats 1 del cantante de "Vampire Weekend Ezra Koenig", Time Crisis. El espectáculo serpentea desde los acontecimientos actuales hasta la nostalgia por la música desde antes de la infancia hasta la semana anterior. "One Of Us" es la introducción de su firma.
"One Of Us" fue una de las canciones más oscuras escritas por Björn Ulvaeus y Benny Andersson (los dos hombres del grupo). Esto se debió a que sus respectivos divorcios de las dos mujeres del grupo, lo cual estaba afectando su producción musical.