BOCHUDO ENGLISH LYRICS
Pipa Para Tabaco
Letra de la canción
Now you pay for sex,
you buy a bag and a telo encerras.
¿Tell me how shit you will not be sick? How will you do that?
And your thinking is hardly able to reach an agreement,
you do not want to admit old .. You will die with it.

I notice anything if things change,
or if the wind blows maybe you die stiff,
now I bought a heart of steel,
to die but not like you're dead.

Dead muertooo .. I say, cry your sad today.
Dead muertooo ... tell you not trust the vile.

The vagus walked with a bag in his hand went up,
completely energized worldwide had in his hands,
Skewed steps and completely square eyes,
He had not realized he was finishing that bag
Tired and hopeless, falls to the ground saying .. "Crazy, I'm dead"
Dead muertooo .. I say, cry your sad today.
Dead muertooo ... tell you not trust the vile.
Dead, you are already dead was the time ..
you've fallen so .. As dead prisoner.
fuente: musica.com
Letra añadida por: ivan GIF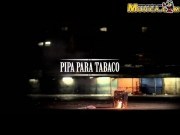 Compartir esta página