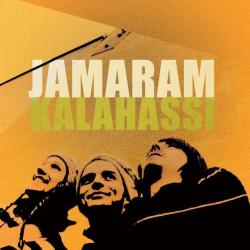 Black / White
Jamaram
La canción 'Black / White' se estrenó en 2004. Este tema está incluido dentro del disco Kalahassi
Al final de la letra de la canción 'Black / White' podrás puntuar su calidad, comentar sobre ella, acceder a más lyrics de Jamaram y a música relacionada.
LETRA
Baby it´s ok for you and me to go absolutely crazy
Running through the fields smelling the scent of love and daisies
It has been ok since you left me yesterday
i´ve been looking for a place to stay
And now I realize I can´t look in your eyes and I´m kneel down to pray
Chorus:
Black white they`re all shades of grey colours you distinguish
got you losing trueness
Didn´t you hear Lauryn Hill say: everything is everything
They are making you believe that you are being
stocked by evel extraterresrial bad aliens
Don´t let them use you like a piece of chess
they only need to relieve themselves of excess stress …
Iyeah
The light at the beach made me so felice that
I asked you to please not get out your seats while
I get down to the groove and down to the beat and I
I wanna do it again
Tell me why can´t we just sit back chill drink beers
and have a good time?
Why do you blame me bitch if it´s you that has been lying
Chorus:Iyeah, Iyeah
Más abajo podrás valorar y comentar la canción Black / White.
Puntuar 'Black / White'
¿Qué te parece esta canción?
-
0 votos
* Gracias a Tiezok por haber añadido esta letra el 18/12/2008.
Comentar Letra
Comenta o pregunta lo que desees sobre Jamaram o 'Black / White'
Comentar
+ Jamaram
Canciones del Disco