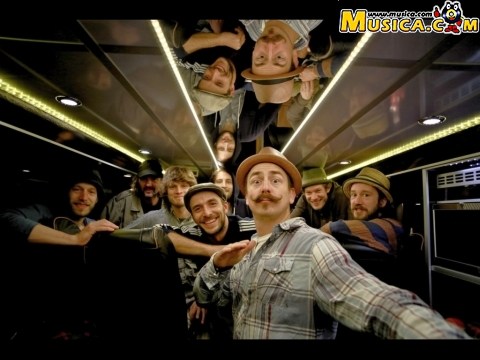 Music
Jamaram
La canción
'Music'
se estrenó en
2007
.
Al final de la letra de la canción 'Music' podrás puntuar su calidad, comentar sobre ella, acceder a más lyrics de Jamaram y a música relacionada.
LETRA
Oh, it's a wonderful, mythological world out there…
So watch your step
You might get wet…
Babylon is walking on hot coals
Scolding its feet on ignited souls
While the people in the streets
Are trying to play their role
And I ask myself why
Why they're tryin' to fit inside the mold
And they can't recognize
When their emotions grow cold
Trying to achieve
When they're losing their souls
What's going on with the people today?
Chorus
Music
Will bring you higherness
You gotta use it
When life puts you to the test
You're gonna need it
When trouble roles around the bend
Ah yeah, now
Wicked man
Even you can't be saved
Do you love the music
The way that I do it and
If you really do I wanna
See you shake and move it
We've been givin' birth to
Fat beats and fresh grooves
The best remedy for you
If you're in a bad mood
Music, music…
gonna need it need it need it…
Chorus
Chorus (variation):
Music
Is gonna make you whole
Don't you abuse it
'Cause it can help you grow
It's gonna save you
So it's time to sing out loud
Oh, ah yeah now
Wicked man
Even you can't be saved
The recipe is new
And I'm sure you'd like to know
Some of the things
I put in besides the flow
My ambition is to plant the seed
And then watch it grow
My ammunition is this track
Bumpin' through your stereo
Once I catch fire you can't turn it off again
Like a pot of boiling soup the riddim keep on bubbelin'
I gotta let it all out
No use in holdin' it in
Tell me can you feel the fire fire burnin'?
Chorus
Chorus variation
Music, music, music…
Más abajo encontrarás canciones relacionadas con Music.
Puntuar 'Music'
¿Qué te parece esta canción?
-
0 votos
* Gracias a Tiezok por haber añadido esta letra el 18/12/2008.
Comentar Letra
Comenta o pregunta lo que desees sobre Jamaram o 'Music'
Comentar
+ Jamaram