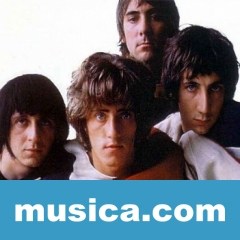 LETRA 'CIRCLES'
Circles, my head is going round in circles
My mind is caught up in a whirlpool, draggin' me down.
Time will tell if I'll take the homeward track
Dizziness will make my feet walk back, walk right back to you.
Everything I do, I think of you
No matter how I try, I can't get back
These circles, leading me back to you
Round and around and around and a...
round and round like a fool I go
Down and down in the pool I go
Draggin' me down
Just one thing could kill the pain of losin' you
But it gets me so dizzy that I'm walkin' right back again
Back to you
Time will tell if these dreams are near his plan
Though I left I'm comin' back
Comin' on back to you
Down and down in the pool I go
Draggin' me down
Apoyar a The Who
The Who no está entre los 500 artistas más apoyados y visitados de esta semana.

¿Apoyar a The Who?

Ranking SemanalMedallero