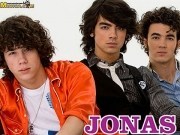 Bb good
LETRA
Bb good Letra
BB Good
I'll pick you up at seven
We can drive around and see a movie
Every scene will have a meaning
But you'll be the one that moves me
I've been hurt before so baby promise that your gonna be true
I'm gonna be be good so tell me that your gonna be good, too
CHORUS
You gotta be be good to me
I'm gonna be be good to you
We'll be happy as can be
Just gotta be be good to me, baby!
Gonna treat you right
We'll never fight
Now baby you can trust me
When I hold you tight
I feel alive
I guess that I'm just lucky
I've been hurt before so baby
Promise that your gonna be true
Gonna be be good so tell me that your gonna be good too
CHORUS REPEAT
Listen girl, you gotta be good
I dont wanna hurt you
I wanna KISS you!
CHORUS REPEAT x2
Listen girl, you outta control
I think you and me
Would be a great
Cou-ple.
Datos de esta canción
BB GOOD es una canción de Jonas. Agradecemos a xica emo17 por haber sudido la letra de Bb good.