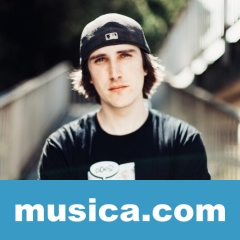 LETRA
Lyrics:
[Chorus]

From the top, to vocalize your helmet impacts,
from above, polluted your brain extracts,
from above, Fado, Samo and Dan bring rap accurate
from above, from here my style intact.
From the top, open the wings, I show my domain,
from the top, dirty signing pacts with demons,
from the top, spit bullets with them formed a siege,
from above, from above, from above, is my approach.

(Samo)

If the sky is shot because your important to me is minimal,
and you and you spend time making you the victim,
if waves impact against rocks in suicidal act
because they are determined to get in my sights.
You want to aspire to something, well let me know,
maybe you can lick the dicks of this ram, leave me in peace,
free my mind and see if it escapes,
I write stories in pavement with the soles of my sneakers.
Stakes bad, addressed to the messiah,
their words go pa Mass, I burn that church,
promises, kisses, cups, ties forged
verses, tight collars, treats my lactencia.
Just trust me and mine, do not believe in what I see,
guided me through my light today and after all is not shining,
Bio and Dan are not so far away the stars,
C2 sincere 3, stop the pool, have opened it.
Pilla, dirty style of my room to study,
There is no god who stop this flood,
if I connect with industry experts, not ghosts,
and effect thing, so I will make you perfect.
You see, the bis bisa stinks endibo bile
if this is animated by ambibas, snakes and mcs with syphilis,
crisis, my gray, so my cockney atmosphere,
It is nothing to expect this shit from Metropolis.
(Dan)

Try to stop these 4 of kerosene for a while,
I blew up the rap after a thousand scribbles,
more burn victims, anchored, let your passion,
From up here you Eurovision style box.
They are 4 that started with gusto, there are no scratches or desire,
and tired of false dreams that elude
I struggle every year to live without steps,
Bacardi Big listen while you watch Los Serrano.
While many capital gain I lose my calm,
that serves the world if I'm going in search of the soul,
and not here, not this, so I do not want to annoy,
but warns if the encounter rapstar clothes.
I stand, stray bullets hit in the mouth,
heal some wounds with your mother is a seal,
your neck is dislocated by farlopa rock bitch
H sucks of this ink with similar heights.
I'm still sad and happy all for nothing,
I come to find out what is it that escapes me,
and so here I go to heaven and I confess,
enhances my problems instead its own weight.
(Porta)

From above, from here you can not hear you, so you yell,
once lawful, it is written that's my rap that excites you,
Get out of the middle or if I will be the breaks you,
Fado, Porta, Samo and Dan are, they let you in checkmate.
If it is a matter of age, do you call yourself your competition?,
I'm already ten high even at full power,
Put another grain of sand and carry a whole castle,
flight now and like everyone I started from the ground.
Hasta la vista, looks at the sky, I am the star,
if I spit from the top is that I make my mark,
I'm a little shit that you see from above,
with only 17 and already I am on saliva.
And is that still just a kid I took a long lead,
attacks, I raised to the sky with low, drums, boxes,
straw making you're still dreaming and thinking of me,
I rise as slowly as I walk away from you.
I get by with Fado, Samo, Dan, I watch from the clouds,
Here we are, then I get what I never had,
a paradise and elevate himself higher than anyone,
to see who laughs now that no one sees me,
flight flying so high that even above God,
under my feet is the farewell of a world that never existed,
wings unfold, I see you so small from here,
this is the story of a mc that learned to fly by himself.

(Fado)

I place to be neither more nor less,
worth more as well, as always is relative,
no ground, no poison and poisons sky
I have the antidote to me, my lady is my oxygen.
I place to be neither more nor less,
sometimes cold and sometimes I burn,
no ground, no poison and poisons sky
I have the antidote to me, my lady.
Forjare wound to the back, pain is a pleasure,
sometimes morbid, sometimes a bitter pill to swallow,
must pass several sips, nuisance and tell me when I depart,
Always ahead of reasons, this is the covenant.
Your motivame, skill crashes,
cles placed in pomp and it'sa shame,
you were good, what happened?, was necessary or was a vice?,
all speak of the essence in its exercise.
San Ignacio rhyme pride
a patriot of my neighborhood, I'm here, come get me, the SEDARI trame,
I won it, I'll milkfish are already years of rap and notes,
sounds like rap that casts login with.
Notes fills you with or you like the sound of my work,
but I to block, rap bitch life approach
without that, nothing there buts,
only rough biting rhymes like dogs.

[Chorus]

From the top, to vocalize your helmet impacts,
from above, polluted your brain extracts,
from above, Fado, Samo and Dan bring rap accurate
from above, from here my style intact.
From the top, open the wings, I show my domain,
from the top, dirty signing pacts with demons,
from the top, spit bullets with them formed a siege,
from above, from above, from above, is my approach
fuente: musica.com


X
Artistas relacionados