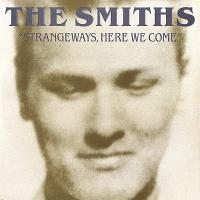 Last Night I Dreamt That Somebody Loved Me
en español
Añadir a Favoritas
Guardar en Playlist
LAST NIGHT I DREAMT THAT SOMEBODY LOVED ME es una canción de The Smiths que se estrenó el , este tema está incluido dentro del disco Strangeways, Here We Come.
Last Night I Dreamt That Somebody Loved Me (en español)
Anoche soñé que alguien me amaba
Anoche soñé
Que alguien me amaba
Sin esperanza , sin daño
Soló otra falsa alarma
Anoche sentí
Unos brazos reales sobre mi
Sin esperanza , Sin daño
solo otra falsa alarma
Entonces, dime cuanto falta
Antes de que llegue la ultima?
Y dime cuanto falta
para la indicada?
La historia es vieja , lo sé
Pero continua
La historia es vieja, lo sé
Pero continua
Oh, continua
Y sigue
Oh, y continua
Y sigue