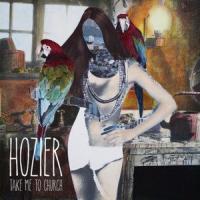 LETRA
My lover's got humor
She's the giggle at a funeral
Knows everybody's disapproval
I should've worshiped her sooner
If the Heavens ever did speak
She is the last true mouthpiece
Every Sunday's getting more bleak
A fresh poison each week
'We were born sick,' you heard them say it
My church offers no absolution
She tells me, 'Worship in the bedroom'
The only heaven I'll be sent to
Is when I'm alone with you
I was born sick,
But I love it
Command me to be well
Amen. Amen. Amen
Chorus x2
Take me to church
I'll worship like a dog at the shrine of your lies
I'll tell you my sins and you can sharpen your knife
Offer me that deathless death
Good God, let me give you my life
If I'm a pagan of the good times
My lover's the sunlight
To keep the Goddess on my side
She demands a sacrifice
To drain the whole sea
Get something shiny
Something meaty for the main course
That's a fine looking high horse
What you got in the stable?
We've a lot of starving faithful
That looks tasty
That looks plenty
This is hungry work
Chorus x2
Take me to church
I'll worship like a dog at the shrine of your lies
I'll tell you my sins so you can sharpen your knife
Offer me my deathless death
Good God, let me give you my life
No masters or kings
When the ritual begins
There is no sweeter innocence than our gentle sin
In the madness and soil of that sad earthly scene
Only then I am human
Only then I am clean
Amen. Amen. Amen
Chorus x2
Take me to church
I'll worship like a dog at the shrine of your lies
I'll tell you my sins so you can sharpen your knife
Offer me my deathless death
Good God, let me give you my life
Sobre Take me to church
"Take Me to Church" es el primer single del artista irlandés Hozier. Se ha convertido en un éxito internacional, alcanzando el número 1 en 12 países y ha sido certificado cinco veces platino en los Estados Unidos.

"Take me to church" fue nominado para un Grammy por "Canción del Año" en 2015.
A pesar de su éxito generalizado e internacional, Hozier era un músico con dificultades cuando grabó la canción. Incluso fue la misma controversia que trajo este tema la que hizo que la canción se hiciera viral.
Hozier dijo en una entrevista con la revista "New York Magazine" en marzo de 2014: "Este tema trata esencialmente de relaciones íntimas y de humanidad. No es un ataque a la fe".

La canción ha atraído la atención de músicos de todo el mundo: por ejemplo, fue cubierta en "The Voice" y el director "David LaChapelle" publicó un vídeo de danza interpretativa de "Take Me To Church", en el que aparece el veterano del "Royal Ballet" británico "Sergei Polunin" interpretando coreografías de "Jade Hale-Christofi".
Apoyar a Hozier
Hozier no está entre los 500 artistas más apoyados y visitados de esta semana, su mejor puesto ha sido el 161º en febrero de 2015.

¿Apoyar a Hozier?

Ranking SemanalMedallero