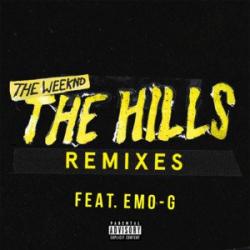 LETRA
The Hills (Letra/Lyrics)
Your man on the road, he doing promo
You said keep our business on the low-low
I'm just tryna get you out the friend zone
'Cause you look even better than the photos
I can't find your house, send me the info
Driving through the gated residential
Found out I was coming, sent your friends home
Keep on tryna hide it but your friends know
I only call you when it's half past five
The only time that I'll be by your side
I only love it when you touch me, not feel me
When I'm fuc*** up, that's the real me
When I'm fuc*** up, that's the real me, yeah
I only f*** you when it's half past five
The only time I'd ever call you mine
I only love it when you touch me, not feel me
When I'm fuc*** up, that's the real me
When I'm fuc*** up, that's the real me, babe
I'ma let you know and keep it simple
Tryna keep it up, don't seem so simple
I just fuc*** two bitches 'fore I saw you
You gon' have to do it at my tempo
Always tryna send me off to rehab
Drugs start to feeling like it's decaf
I'm just tryna live life for the moment
And all these motherfuc*** want a real love
I only call you when it's half past five
The only time that I'll be by your side
I only love it when you touch me, not feel me
When I'm fuc*** up, that's the real me
When I'm fuc*** up, that's the real me, yeah
I only f*** you when it's half past five
The only time I'd ever call you mine
I only love it when you touch me, not feel me
When I'm fuc*** up, that's the real me
When I'm fuc*** up, that's the real me, babe
Hills have eyes, the hills have eyes
Who are you to judge, who are you to judge?
Hide your lies, girl, hide your lies
Only you to trust, only you
I only call you when it's half past five
The only time that I'll be by your side
I only love it when you touch me, not feel me
When I'm fuc*** up, that's the real me
When I'm fuc*** up, that's the real me, yeah
I only f*** you when it's half past five
The only time I'd ever call you mine
I only love it when you touch me, not feel me
When I'm fuc*** up, that's the real me
When I'm fuc*** up, that's the real me, babe
What about love? What about love?
Datos de The Hills
THE HILLS es una canción de The Weeknd que se estrenó el , este tema está incluido dentro del disco The Weeknd in Japan. Agradecemos a Runaway21 por haber sudido la letra de The Hills.
Sobre The Hills
Originalmente apodada "Mood Music" (Música de humor) y que se escuchó por primera vez en una actuación en vivo en SXSW, la narrativa de "The Hills" es un asunto íntimo que se hunde. Abel aclara lo que esta mujer significa para él, y le recuerda que ella juega un papel igualmente culpable en este asunto.

En el Hot 100 del 3 de octubre de 2015, "The Hills" alcanzó el número uno de la lista, destronando su propio "Can't Feel My Face". Con esta hazaña, Abel se convirtió en el undécimo artista en reemplazarse a sí mismo en el puesto número 1, y el segundo en encabezar la lista de éxitos con un sencillo después de que se lanzara el segundo sencillo. (Rihanna lo hizo en 2010 con el sencillo principal "Only Girl (In The World)" y el segundo sencillo "What's My Name", que contaba con la colaboración frecuente de Drake durante el fin de semana.) Llegó a lo más alto de la tabla durante seis semanas, convirtiéndose en su número uno más largo. El 11 de octubre se publicaron dos remixes con Eminem y Nicki Minaj respectivamente.