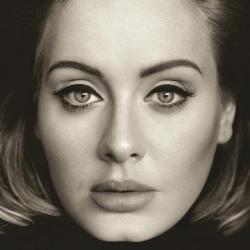 LETRA
Love In The Dark (Letra/Lyrics)
Take your eyes off of me so I can leave
I'm far too ashamed to do it with you watching me
This is never ending
We have been here before
But I can't stay this time
'cause I don't love you anymore
Please stay where you are
Don't come any closer
Don't try to change my mind
I'm being cruel to be kind
I can't love you in the dark
It feels like we're oceans apart
There is so much space between us
Maybe we're already defeated
Ahhh yeah yeah yeah
Yeah yeah yeah yeah everything changed me
You have given me something I can't live without
You mustn't underestimate that when you are in doubt
But I don't want to carry on like everything is fine
The longer we ignore it all the more that we will fight
Please don't fall apart
I can't face your breaking heart
I'm trying to be brave
Stop asking me to stay
I can't love you in the dark
It feels like we're oceans apart
There is so much space between us
Maybe we're already defeated
Ahhh yeah yeah yeah
Yeah yeah yeah yeah everything changed me
We're not the only ones
I don't regret a thing
Every word I've said
You know I'll always mean
It is the world to me
That you are in my life
But I want to live
And not just survive
That's why I can't love you in the dark
It feels like we're oceans apart
There is so much space between us
Maybe we're already defeated
'Cause ah-yeah-yeah-yeah-yeah-yeah everything changed me
And I-I-I-I-I don't think you can save me
Datos de esta canción
LOVE IN THE DARK es una canción de Adele que se estrenó el , este tema está incluido dentro del disco 25 . Agradecemos a claudianamo por haber sudido la letra de Love In The Dark.
Sobre Love In The Dark
Muchos podrían asumir que "Love In The Dark" es otra oda a la relación en la que se basan la mayoría de las canciones del álbum 21, sin embargo, es mucho más probable que esta canción se base en la relación de desquite en la que cayó antes de que conociera a "su marido", en torno al estreno del álbum 21.
A diferencia de la inspiración principal para el álbum 21, que ha sido nombrada repetidamente por Adele, ella raramente se refiere al protagonista de esta canción, y si lo hace utiliza nada menos que tonos venenosos en entrevistas y grabaciones en vivo.
Esta canción refleja cómo se sentía en ese momento. Aunque él le dio lo que ella necesitaba en ese momento, alguien que la amara y cuidara del dolor de su corazón, su relación no está destinada a continuar.