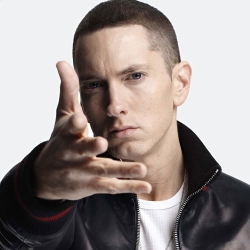 LETRA 'IN YOUR HEAD'
In your head, in your head
Zombie, zombie, zombie-ie-ie
What's in your head, in your head
Zombie, zombie, zombie-ie-ie, oh
I'm packing up my shit
As much shit in the car as I can fit
And I'm just driving as far as I can get
Away from these problems, to all my sorrows I forget
What's tomorrow like? 'Cause tonight I'm starting life again
Get to the corner and stop, f*** am I going
Besides psycho when I fantasize
Starting my whole life over, yeah right
Oh and I might go and
Get hypnotized so I don't even recognize no one
I try to look alive because there's nothing like
Holding your head up high when you're dead inside
And I just hide so in, case you're wondering why my insides showing
'Cause I done spilled all my guts and those are mine so I'm
Picking them up and stuffing them back
F*** it, I've done enough in this rap shit, Recovery brought me nothing
But back, to where I was and perhaps, this could've been my victory lap if I wasn't on the verge of Relapse
In your head, in your head
Zombie, zombie, zombie-ie-ie
What's in your head, in your head
Zombie, zombie, zombie-ie-ie, oh
It seems to be the reoccurring main thing
The shit I would daydream as a kid, I was eighteen
I went from an irate teenager to still raging
Is it though amazing, back then I put anything
Into the rhyme, whether it was sad, mad, happy, or angry
I spit it, the mainstream, I hit it
Blame me, I did it—did what?
Hailie, baby, I didn't mean to make you eighty
Percent of what I rapped about
Maybe, I should've did a better job at separating
Shady, and entertaining, from real life but this
Dang thing, is still the hardest thing to explain
It's the craziest shit I
Ever seen it back then, it was like I ain't even
Bother to taken into consideration
You and [?] baby and older and make, hear me say things
I did it, pay me, and be, it just ain't me
Okay, so ladies and gentlemen let's strip away everything
And see the main reason that I, feel like a lame piece of shit
Or should I start cranking in bitter
Come playing beef and pick up by the same things
'Cause when I, look at me, I don't see what they see
I feel the same greedy and lately I've been contemplating
Escaping to get a ranger or whatever this road takes me
It's making me crazy, what's in my?
In your head, in your head
Zombie, zombie, zombie-ie-ie
What's in your head, in your head
Zombie, zombie, zombie-ie-ie, oh

Sobre In Your Head
En "In Your Head" (En tu cabeza), Eminem reflexiona sobre sus arrepentimientos a lo largo de su carrera. En particular, parece que está más frustrado con su personaje de Slim Shady.
Debido a su personalidad, Em mezcló problemas de la vida real con su música. El ejemplo más popular sería "Kim", donde Em mata a su esposa por frustración. Tampoco tenía problemas para quejarse de los demás. Incluso en la cúspide de su carrera, ha hecho evidente que diría lo que quisiera. Sus acciones finalmente comenzaron a alcanzarlo en esta canción, ya que está arrepentido por lo que ha dicho.
Su alter ego, tal como lo describió Eminem, era su lado malvado pero divertido: "Slim Shady son sólo los malos pensamientos que vienen a mi cabeza. Cosas en las que no debería estar pensando. No es por ser tramposo, pero la gente debería ser capaz de determinar cuándo hablo en serio y cuándo estoy bromeando. Por eso muchas de mis canciones son graciosas".
Apoyar a Eminem
Eminem está en la posición 159 del ranking de esta semana, su mejor puesto ha sido el 2º, siendo su primera vez en septiembre de 2010 y la más reciente en octubre del mismo año.

¿Apoyar a Eminem?

Ranking SemanalMedallero