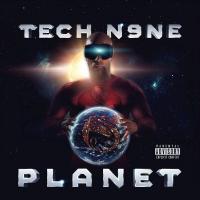 How I'm Feeling
Letra y Canción
Añadir a Favoritas
Guardar en Playlist
HOW I'M FEELING es una canción de Tech N9ne y Navé Monjo del año 2018, este tema está incluido dentro del disco Planet.
LETRA
'How I'm Feeling'
[Intro: Navé Monjo]
Yeah Yeah Nave Monjo ooh
Creep, creep, creep
Did it all on purpose (purpose)
Stepped up in their building, make 'em nervous (creep, creep)
Better cuff your bitch 'cause she lurking
Spilling all these drinks that I purchased
Yeah, something real strange (real strange)
When I look around I see real things
If you mad get out your feelings
'Cause this is how I'm feeling
This is how I'm feeling (yeah)
Bitches I don't feel 'em
This is how I'm feeling
This is how I'm feeling
This is how I'm feeling
That 'Bou Lou gonna give me a billion
Inshallah run it back Lord willing
I'ma be off on island chilling
I came a long way from dope dealing
And I still run with the 5-6 villain
We live life like it ain't no ceilings
Never been a limit Tecca Nina be killing, ah! (creep, creep, creep)
I feel like break-dancing
'Cause I got every bitch in the place straight glancing
While they next to they lover looking at me hate stancing
But I'm always with niggas just like a fake clansman
How I'm feeling is people keep using identical syllables
Switch it up a little bit I'm feeling that often this pattern is the only one feelable
To the masses perhaps to the people not needin' variety
Since the umbilical, don't hate the mirror so
I'm just a rapper that happens to kill a bro
When I be clapping, you kinda so pillable, ah!
Did it all on purpose (purpose)
Stepped up in their building, make 'em nervous (creep, creep)
Better cuff your bitch 'cause she lurking
Spilling all these drinks that I purchased
Yeah, something real strange (real strange)
When I look around I see real things
If you mad get out your feelings
'Cause this is how I'm feeling
This is how I'm feeling (yeah)
Bitches I don't feel 'em
This is how I'm feeling
This is how I'm feeling
[Verse 2: Snow Tha Product]
Snow ayyo be the one all of these bitches be talking about (yeah yeah)
First they be throwing them shots and then they wanna talk it out (yeah yeah)
Hold on bitch lemme find out you ain't know facts (yeah yeah)
And I'm still this cold with the bars tryna get me to backtrack 'cause you know I still rap
But I get that bag and then I go sing and then I come right back and I let that stack
And the bell go ding and a bitch get slapped and I know it's gon' sting when you hoes hear that
It ain't mumble rap if you hear me clearly
I rap better than you boys and you gettin' weary
'Cause I hit a little melody and I know you hear me
With your dumb ass only smart people feel me
'Cause I been naughty killin' that rap
It's just that I been lookin' up to Kaliko
Most of you bitches that been rappin' fast
Garbage as f***, I'm a whole different animal
Lately these bitches be jocking me
Hard hear it all in they song so I shook 'em again
So when they ask if I'm still going off
Yes bitch I'm a monster don't ever forget, ho'
Did it all on purpose (creep, creep)
Stepped up in their building, make 'em nervous (creep, creep)
Better cuff your bitch 'cause she lurking
Spilling all these drinks that I purchased
Yeah, something real strange (real strange)
When I look around I see real things
If you mad get out your feelings
'Cause this is how I'm feeling
This is how I'm feeling (yeah)
Bitches I don't feel 'em
This is how I'm feeling
This is how I'm feeling
This is how I'm feeling (yeah)
Bitches I don't feel 'em
This is how I'm feeling
This is how I'm feeling

Apoyar a Tech N9ne
Tech N9ne no está entre los 500 artistas más apoyados y visitados de esta semana.

¿Apoyar a Tech N9ne?

Ranking SemanalMedallero