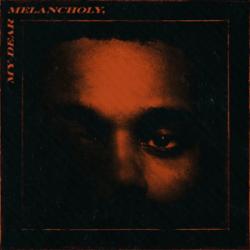 LETRA
Call Out My Name (Letra/Lyrics)
[Verse 1]
We found each other
I helped you out of a broken place
You gave me comfort
But falling for you was my mistake
[Pre-Chorus]
I put you on top, I put you on top
I claimed you so proud and openly
And when times were rough, when times were rough
I made sure I held you close to me
[Chorus]
So call out my name (call out my name)
Call out my name when I kiss you so gently
I want you to stay (want you to stay)
I want you to stay, even though you don't want me
Girl, why can't you wait? (Why can't you wait, baby?)
Girl, why can't you wait 'til I fall out of love?
Won't you call out my name? (Call out my name)
Girl, call out my name, and I'll be on my way
I'll be on my-
[Verse 2]
I said I didn't feel nothing, baby, but I lied
I almost cut a piece of myself for your life
Guess I was just another pit stop
'Til you made up your mind
You just wasted my time
You're on top
[Pre-Chorus]
I put you on top
I claimed you so proud and openly, babe
And when times were rough, when times were rough
I made sure I held you close to me
[Chorus]
So call out my name (call out my name, baby)
So call out my name when I kiss you
So gently, I want you to stay (I want you to stay)
I want you to stay even though you don't want me
Girl, why can't you wait? (Girl, why can't you wait 'til I?)
Girl, why can't you wait 'til I fall out of love?
Won't you call out my name? (Say call out my name, baby)
Girl, call out my name, and I'll be on my way
Girl, I'll be on my-
[Outro]
On my way, on my way
On my way, on my way, on my way
On my way, on my way, on my way
On my way, on my way, on my way
On, on
Datos de esta canción
CALL OUT MY NAME es una canción de The Weeknd que se estrenó el , este tema está incluido dentro del disco The Weeknd in Japan. Agradecemos a Ron*AL*dinho por haber sudido la letra de Call Out My Name.
Sobre Call Out My Name
Con una muestra de su "Earned It" nominado al Oscar sobre un ritmo lento de piano del productor Frank Dukes (que colaboró con The Weeknd en su esfuerzo anterior Starboy), Abel detalla sus luchas por dejar atrás una relación pasada.

Abel explica que, aunque es consciente de que su último amante no se esforzó tanto en la relación como él ("perdí el tiempo"), en el fondo desea que ella lo necesite tanto como él a ella.