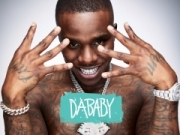 4X
Letra y canción
Añadir a Favoritas
Guardar en Playlist
4X es una canción de DaBaby y Stunna 4 Vegas.
LETRA
'4X'
Just got off the phone with my partner
He told me he need three, I told him I got him (Ha)
You probably ain't heard how I'm rockin'
I'll beat yo' ass up, leave my gun in my pocket (Yeah)
Just went up on my prices, you dig? (I went up)
Keep a gun wit' no license, you dig?
Off the top, I ain't writin' this shit (Uh-uh)
I keep a Glock, I ain't fightin' you (Bitch)
Yeah, I'm tryna strike him (Come here)
I got shit on lock, Rikers (On lock)
Sent the DM, she think that I like her (Uh-huh)
I just want some good head, she want titles (That neck)
Got my music on Apple and Tidal (Ha)
I got the juice like I'm Snapple, I'm viral (Ha-ha)
She sucked my dick for a pic (Uh-huh)
I smack her ass, give her dick (Dick, dick)
I'll turn your ass to a lick (Bitch)
We hop off the sprinter with sticks
We came for a show, but these rods ain't for show
Nigga do the wrong thing and we endin' his shit (On gang)
Bruh, hop off the stage then we fallin' (Uh)
Nigga reach, is you tryna go viral? (Pussy)
He get beat to sleep for playin' tough in the club
He won't remember tomorrow (Gang)
I'm a real-I'm a real blockstar (Uh-huh)
Stunna man got the block bumpin' (Uh-huh)
My name in the streets like I popped somethin' (Yeah)
Nigga play with my name, have the block jumpin' (Uh-uh)
Your bitch on my dick when I drop somethin' (Ooh)
You ain't hit no licks, ni***, stop frontin' (Uh-uh)
I ain't tryna lip box
I'm tryna knock him out the frame, Stunna gon' crop somethin' (Come here)
Lookin' for his bitch like he lost somethin' (Where she at?)
She wit' me, I got my feet up (Ha, ha)
My dick on the plate, make her eat up (Eat)
He can still get a P, bro, they cheap (Ha)
A trapper turned rapper
Been losin' my plays 'cause I've been out of town for a week (Damn)
Too busy, I can't pick my phone up (I can't)
Don't argue with hoes, bitch, we grown-ups (Yeah)
I walk it out, DJ Unk (Walk it out)
Got that fire on me, not f*** with Trump (Got that fire)
Do my dance on your main, she gon' f***
Nigga, play with the gang if you want (Yeah)
I'll do a show, get you hit (Get you hit)
Hundred twenty-five hoes on my dick (Twenty-five)
I bumped into your swoop, she a goner (She gone)
She wasn't my type of boo, I ain't want her (Uh-uh)
Passed it down through the crew, here go Stunna (Okay)
Uh, bro send that pack off like a punter (Trap)
I son that boy like his uncle (Bitch)
He claimin' somethin', we puttin' him under (Come here)
We beat down his block like some drummers (Wham)
No Thug, I'm really with gunners (Slime)
Ayy, I'm in her mouth like a sucker (Ooh)
I use her face, I won't nut on the covers (Thot, thot)
Four times, these bitches love me (Four times)
See me with DaBaby, now they wanna f*** me (Gang)
And if I do, bitch, you lucky (Ooh)
Ha, I bet he gon' die if he touch me (Wham)
Four times, four times, four times
Pop your shit, ni***, pop your shit, go 'head
Four times
Pop your shit
Blank Blank
Pop it
Blank Blank
Pop your shit, talk your shit
Yeah, hottest young ni*** doin' this shit, bitch (Bitch)
Four way, you get this shit the glo way
Hallway, rundown, god way, grahh
That's why I f*** wit' ni***
That's why I f*** wit' that ni*** right there
Huh?
He gon' pop his shit, you hear me?
Huh? Huh?
Real talk, I'm the best motherfuckin' rapper, Stunna the best young ni*** rapper, bitch, we takin' over
Blank Blank