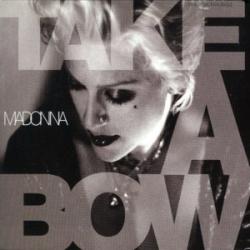 LETRA
Take A Bow (Letra/Lyrics)
Take a bow, the night is over
This masquerade is getting older
Light are low, the curtains down
There's no one here
Say your lines but do you feel them
Do you mean what you say when there's no one around [no one around]
Watching you, watching me, one lonely star
I've always been in love with you [always with you]
I guess you've always known it's true [you know it's true]
You took my love for granted, why oh why
The show is over, say good-bye
Say good-bye [bye bye], say good-bye
Make them laugh, it comes so easy
When you get to the part
Where you're breaking my heart [breaking my heart]
Hide behind your smile, all the world loves a clown
Wish you well, I cannot stay
You deserve an award for the role that you played [role that you played]
No more masquerade, you're one lonely star
I've always been in love with you [always with you]
I guess you've always known it's true [you know it's true]
You took my love for granted, why oh why
The show is over, say good-bye
Say good-bye [bye bye], say good-bye
All the world is a stage [world is a stage]
And everyone has their part [has their part]
But how was I to know which way the story'd go
How was I to know you'd break
You'd break my heart
I've always been in love with you
Guess you've always known
You took my love for granted, why oh why
The show is over, say good-bye
I've always been in love with you [always with you]
I guess you've always known it's true [you know it's true]
You took my love for granted, why oh why
The show is over, say good-bye
Say good-bye [bye bye], say good-bye
Say good-bye
Datos de esta canción
TAKE A BOW es una canción de Madonna que se estrenó el , este tema está incluido dentro del disco Bedtime Stories.
Sobre Take A Bow
El vídeo de 'Take a bow', de temática taurina, fue rodado en España, en los municipios malagueños de Antequera y Ronda, junto al torero sevillano Emilio Muñoz.
Esta canción de Madonna habla sobre la relación que mantuvo con Sean Penn.
"Take a Bow" es una canción de la cantante estadounidense Madonna de su sexto álbum de estudio Bedtime Stories (1994). Fue lanzado como el segundo sencillo del álbum el 28 de octubre de 1994, por Maverick Records.
Es una balada pop de medio tiempo escrita y producida por Madonna y Babyface.
Madonna dijo lo siguiente explicando el concepto de la canción en The Billboard Book of Number 1 Hits de Fred Bronson: "La idea era yuxtaponer mi estilo de canto con una sensibilidad hardcore hip-hop y hacer que el producto final siguiera sonando como un disco de Madonna. Comencé el proceso reuniéndome con los productores de hip-hop cuyo trabajo más admiraba. Era importante, si utilizaba una variedad de colaboradores, que el producto final sonara cohesivo y temáticamente completo. No me interesaba el enfoque del paquete de variedades".