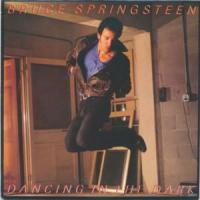 Dancing In The Dark Letra
Letra de Dancing In The Dark
I get up in the evening
And I ain't got nothing to say
I come home in the morning
I go to bed feeling the same way
I ain't nothing but tired
Man I'm just tired and bored with myself
Hey there baby, I could use just a little help
You can't start a fire
You can't start a fire without a spark
This gun's for hire
Even if we're just dancing in the dark
Message keeps getting clearer
Radio's on and I'm moving 'round the place
I check my look in the mirror
I want to change my clothes, my hair, my face
Man I ain't getting nowhere
I'm just living in a dump like this
There's something happening somewhere
Baby I just know that there is
You can't start a fire
You can't start a fire without a spark
This gun's for hire
Even if we're just dancing in the dark
You sit around getting older
There's a joke here somewhere and it's on me
I'll shake this world off my shoulders
Come on baby this laugh's on me
Stay on the streets of this town
And they'll be carving you up alright
They say you gotta stay hungry
Hey baby I'm just about starving tonight
I'm dying for some action
I'm sick of sitting 'round here trying to write this book
I need a love reaction
Come on now baby gimme just one look
You can't start a fire sitting 'round crying over a broken heart
This gun's for hire
Even if we're just dancing in the dark
You can't start a fire worrying about your little world falling apart
This gun's for hire
Even if we're just dancing in the dark
Even if we're just dancing in the dark
Even if we're just dancing in the dark
Even if we're just dancing in the dark
Hey baby
Sobre Dancing In The Dark
El primer sencillo del álbum seminal de Springsteen Born In The U.S.A., esta canción fue escrita dos años después de la mayoría de las otras canciones del álbum.
El productor Jon Landau pensó que el nuevo álbum carecía de un éxito garantizado y empujó a Springsteen a redactar una canción más. Los dos hombres tuvieron un breve altercado, luego de lo cual Bruce escribió "Dancing in the Dark" sobre su "dificultad para escribir un sencillo exitoso y su frustración al tratar de escribir canciones que complacerán a la gente".
Su video musical contiene una aparición temprana de la actriz Courtney Cox. También ayudó a presentar Springsteen a un público más joven, preparando el escenario para una serie de siete éxitos del top 10 del álbum.
"Dancing In The Dark" se convirtió en el single más alto de Springsteen que jamás haya tenido el Boss, pasando cuatro semanas en la posición número 2 del Billboard Hot 100 en el verano de 1984. También pasó seis semanas en el número 1 en la lista de Mainstream Rock.
"Dancing in the Dark" ganó un Grammy en 1984 por Mejor interpretación vocal de rock.
El video musical de este tema ganó el premio MTV Video Music Award a la mejor actuación escénica.