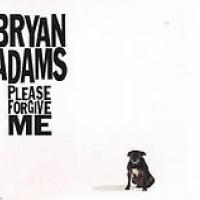 'Please Forgive Me' se estrenó el . Esta canción está incluida dentro del disco So Far So Good.
LETRA
'Please Forgive Me'
It still feels like our first night together
Feels like the first kiss
It's getting better baby
No one can better this
Still holding on
You're still the one
First time our eyes met
Same feeling I get
Only feels much stronger
I want to love you longer
Do you still turn the fire on?
So if you're feeling lonely, don't
You're the only one I'll ever want
I only want to make it good
So if I love you, a little more than I should
Please forgive me, I know not what I do
Please forgive me, I can't stop loving you
Don't deny me, this pain I'm going through
Please forgive me, if I need you like I do
Please believe me, every word I say is true
Please forgive me, I can't stop loving you
Still feels like our best times are together
Feels like the first touch
We're still getting closer baby
Can't get closer enough
Still holding on
You're still number one
I remember the smell of your skin
I remember everything
I remember all your moves
I remember you yeah
I remember the nights, you know I still do
So if you're feeling lonely, don't
You're the only one I'll ever want
I only want to make it good
So if I love you a little more than I should
Please forgive me, I know not what I do
Please forgive me, I can't stop loving you
Don't deny me, this pain I'm going through
Please forgive me, if I need you like I do
Please believe me, every word I say is true
Please forgive me, I can't stop loving you
The one thing I'm sure of
Is the way we make love
The one thing I depend on
Is for us to stay strong
With every word and every breath I'm praying
That's why I'm saying,
Please forgive me, I know not what I do
Please forgive me, I can't stop loving you
Don't deny me, this pain I'm going through
Please forgive me, if I need you like I do
Babe believe it, every word I say is true
Please forgive me, if I can't stop loving you
No, believe me, I don't know what I do
Please forgive me, I can't stop loving you
I can't stop, loving you
Apoyar a Bryan Adams
Bryan Adams está en la posición 424 del ranking de esta semana, su mejor puesto ha sido el 72º en diciembre de 2012.

¿Apoyar a Bryan Adams?

Ranking SemanalMedallero