GIVING MY ALL
Chorus:
I am giving my all to you;
trying to do the best I can
to make sure that I do your plan.
I'm giving my life to you;
gave me life and set me free,
you put your light inside of me.

Everyday I face my fears,
will I make it through the years
of all the pressures;
all the bad times that come my way.
And then there's the enemy around
who wants to make me lose my ground
for earthly treasures;
all the wrong paths that I could take.
But I've decided that my goal
is to give you sole control,
and to love you because you've done just so much for me.
Oh, you've set my spirit free,
and you've cared so faithfully.
I want to know you,
and everything that you are.
Repeat Chorus

I never knew life could be so tough,
or that this race would be so rough.
But though I struggle,
I know I'll be alright in the end.
Cause everytime that I fall down,
you have always been around
to be near me; to wrap me up in your arms again.
How you shower me with grace
everytime I see your face,
and you love me.
So that I don't want to do wrong.
So to you I sing this song,
and I pray for help to keep on going,
never stop, oh yeah.

Repeat Chorus

Oh,through my life story,
I want to give you glory.
Life tries to bring me down,
for your love, I'll stand my ground.
Your heart has received me,
and you will never leave me.
No time to play the games,
now that I know that you came to save me.
Nah, nah, nah, nah....
Ooh, ooh...

Repeat Chorus
fuente: musica.com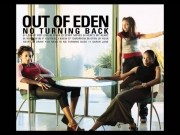 Ficha de la Canción
Título:
GIVING MY ALL
Grupo/Cantante:
OUT OF EDEN
Letra escrita por:
LISA NICOLE KIMMEY,MICHAEL BRAGG
Letra publicada por:
UNIVERSAL MUSIC PUBLISHING GROUP,CAPITOL CHRISTIAN MUSIC GROUP