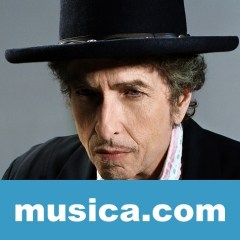 'All Along The Watchtower' se estrenó el . Esta canción está incluida dentro del disco Bob Dylan At Budokan.
LETRA 'ALL ALONG THE WATCHTOWER'
\"There must be some way out of here,\" said the joker to the thief,
\"There's too much confusion, I can't get no relief.
Businessmen, they drink my wine, plowmen dig my earth,
None of them along the line know what any of it is worth.\"
\"No reason to get excited,\" the thief, he kindly spoke,
\"There are many here among us who feel that life is but a joke.
But you and I, we've been through that, and this is not our fate,
So let us not talk falsely now, the hour is getting late.\"
All along the watchtower, princes kept the view
While all the women came and went, barefoot servants, too.
Outside in the distance a wildcat did growl,
Two riders were approaching, the wind began to howl.
Sobre All Along The Watchtower
Una canción clásica de John Wesley Harding de Dylan. El significado es críptico; ha habido teorías de que se trata de todo, desde la guerra de Vietnam hasta el Armagedón. Algunos críticos han notado paralelismos con Isaías 21:5-9.
Jimi Hendrix cubrió esta canción y condujo a una de las versiones más grandes de todos los tiempos. Incluso Dylan dijo que era un gran admirador.
Apoyar a Bob Dylan
Bob Dylan está en la posición 487 del ranking de esta semana, su mejor puesto ha sido el 2º en octubre de 2016.

¿Apoyar a Bob Dylan?

Ranking SemanalMedallero