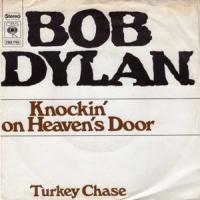 Knockin On Heavens Door Letra
Añadir a Favoritas
Guardar en Playlist
Letra 'Knockin On Heavens Door'
Mama, take this badge off of me
I can't use it anymore
It's gettin' dark, too dark to see
I feel like I'm knockin' on heaven's door
Knock, knock, knockin' on heaven's door
Knock, knock, knockin' on heaven's door
Knock, knock, knockin' on heaven's door
Knock, knock, knockin' on heaven's door
Mama, put my guns in the ground
I can't shoot them anymore
That long black cloud is comin' down
I feel like I'm knockin' on heaven's door
Knock, knock, knockin' on heaven's door
Knock, knock, knockin' on heaven's door
Knock, knock, knockin' on heaven's door
Knock, knock, knockin' on heaven's door
Sobre Knockin On Heavens Door
"Knockin' on Heaven's Door" de Bob Dylan aparece en su álbum de 1973, Pat Garrett y Billy the Kid.
En la película, la canción suena después de que el sheriff Colin Baker, un aliado de Pat Garrett retratado por Slim Pickens, fuera herido de muerte en un tiroteo con la banda de Billy the Kid. Baker y su esposa están a orillas de un río, preparándose para su muerte, que en realidad no se muestra en la pantalla.
Esta canción fue incluida por el Western Writer's como una de sus 100 Mejores Canciones Occidentales de Todos los Tiempos.
En una exposición de arte híbrido comisionada por la London Halcyon Gallery, titulada'Mondo Scripto', que se presenta como "la primera vez que fusiona sus disciplinas artísticas", Dylan esbozó una serie de imágenes para representar visualmente los temas y las letras de 16 líneas diferentes de la canción.