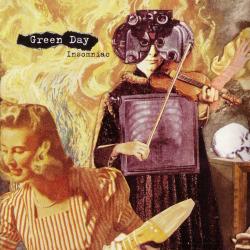 Panic Song
Green Day
La canción 'Panic Song' se estrenó el . Este tema está incluido dentro del disco Insomniac
Al final de la letra de la canción 'Panic Song' podrás puntuar su calidad, comentar sobre ella, acceder a más lyrics de Green Day y a música relacionada.
LETRA
Ready for a cheap escape
On the brink of self destruction
Widespread panic
Broken glass inside my head
Bleeding down these thoughts of
Anguish... mass confusion
The world is a sick machine
Breeding a mass of shit
With such a desolate conclusion
Fill the void with... I don't care
There's a plague inside of me
Eating at my disposition
Nothing's left
Torn out of reality
Into a state of no opinion
Limp with hate
Más abajo podrás valorar y comentar la canción Panic Song.
Puntuar 'Panic Song'
¿Qué te parece esta canción?
5,00
1 voto
+ Green Day
Canciones del Disco
Música Relacionada