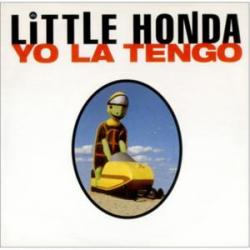 Little Honda
Yo la Tengo
Añadir a Favoritas
La canción 'Little Honda' se estrenó el . Este tema está incluido dentro del disco I Can Hear the Heart Beating as One
Al final de la letra de la canción 'Little Honda' podrás puntuar su calidad, comentar sobre ella, acceder a más lyrics de Yo la Tengo y a música relacionada.
LETRA
I'm gonna wake you up early cause
I'm gonna take a ride with you
We're going down to the auto shop,
I'll tell you what we're gonna do
Get on the ride, no sweat,
sure we'll take you anywhere you want me to
First gear, it's all right
Second gear, hang on tight
Third gear, ain't I right
Faster, it's all right
It's not a big motorcycle,
just a groovy little motorbike
It's more fun than a barrel of monkeys,
that two-wheel ride
We'll go on into the hills
or anywhere you wanna decide
We'll ride some hills like a champ
because my Honda's built really light
When I go into the turn, lean with me, hang on tight
I think I'll put on the lights,
so I can ride mine under the night
Más abajo podrás valorar y comentar la canción Little Honda.
Puntuar 'Little Honda'
¿Qué te parece esta canción?
-
0 votos
* Gracias a Ágætis Byrjun por haber añadido esta letra el 11/3/2006.
Comentar Letra
Comenta o pregunta lo que desees sobre Yo la Tengo o 'Little Honda'
Comentarios (1)
+ Yo la Tengo
Canciones del Disco