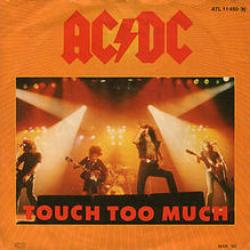 LETRA
Touch Too Much (Letra/Lyrics)
It was one of those nights
When you turned out the lights
And everything comes into view
She was taking her time
I was losing my mind
There was nothing that she wouldn't do
It wasn't the first
It wasn't the last
She knew we was making love
I was so satisfied
Deep down inside
Like a hand in a velvet glove
Seems like a touch, a touch too much
Seems like a touch, a touch too much
Too much for my body, too much for my brain
This damn woman's gonna drive me insane
She's got a touch, a touch too much
She had the face of an angel
Smiling with sin
A body of Venus with arms
Dealing with danger
Stroking my skin
Let the thunder and lightening start
It wasn't the first
It wasn't the last
It wasn't that she didn't care
She wanted it hard
And wanted it fast
She liked it done medium rare
Seems like a touch, a touch too much
Seems like a touch, a touch too much
Too much for my body, too much for my brain
This damn woman's gonna drive me insane
She's had a touch, a touch too much, touch me
Seems like a touch (touch too much)
You know it's much too much (much too much)
I really want to feel your (touch too much)
Girl you know you're giving me (much too much)
Seems like a touch
Just a dirty little touch
I really need your touch
'Cause you're much too much too much too much
Seems like a touch, a touch too much
Seems like a touch, a touch too much
Giving me a touch, a touch too much
Baby gotta a touch, a touch too much
Seems like a touch, a touch too much
A touch too much
A touch too much
A touch too much
A touch
Come on touch me
Ah
Datos de Touch Too Much
TOUCH TOO MUCH es una canción de AC/DC que se estrenó el , este tema está incluido dentro del disco Highway to Hell.
Sobre Touch Too Much
"Touch Too Much" fue lanzado como el tercer y último sencillo de Highway To Hell, un elogio a una mujer que tocó a Bon Scott de maneras inusuales y realmente agradables.
Desde sus inicios en 1977, la canción ha pasado por muchos cambios de arreglo a letra antes de que la versión final de la canción fuera seleccionada para estar en el álbum. La versión final fue interpretada por AC/DC en el programa de música de la BBC Top of the Pops unos días antes de la muerte del cantante principal Bon Scott, en 1980.
Dada la reproducción de las características de Top of the Pops, la canción no fue interpretada adecuadamente en concierto hasta el 2016, ya que una vez que audicionaron a Axel Rose para sustituir a Brian Johnson, fue una de las canciones que él mostró. (Según Angus, dijo "¿Puedes tocar esta?", y la banda dijo "No, nunca la aprendimos", ya que nunca habían intentado tocarla en directo.)