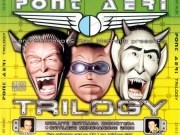 Take a trip Letra
Añadir a Favoritas
Guardar en Playlist
TAKE A TRIP es una canción de Pont Aeri.
Letra 'Take a trip'
Uhh... Uhh...
New World bigger and so fine where sensations can be real,
now it's time to found our party in dj´s factory,
you can make a trip, tears of fantasy!!!
Dancing to the end, living for the eternety,
always in a dream, all the land it's threat...
Never want to leave, where the people jump with other techno hits!