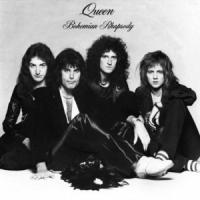 'Bohemian Rhapsody' se estrenó el . Esta canción está incluida dentro del disco A Night at the Opera.
LETRA
'Bohemian Rhapsody'
Is this the real life?
Is this just fantasy?
Caught in a landslide
No escape from reality
Open your eyes
Look up to the skies and see
I'm just a poor boy, I need no sympathy
Because I'm easy come, easy go
A little high, little low
Anyway the wind blows, doesn't really matter to me, to me
Mama, just killed a man
Put a gun against his head
Pulled my trigger, now he's dead
Mama, life had just begun
But now I've gone and thrown it all away
Mama, ooo
Didn't mean to make you cry
If I'm not back again this time tomorrow
Carry on, carry on, as if nothing really matters
Too late, my time has come
Sends shivers down my spine
Body's aching all the time
Goodbye everybody I've got to go
Gotta leave you all behind and face the truth
Mama, ooo (anyway the wind blows)
I don't want to die
I sometimes wish I'd never been born at all
I see a little silhouetto of a man
Scaramouch, scaramouch will you do the fandango
Thunderbolt and lightning very very frightening me
Gallileo, Gallileo,
Gallileo, Gallileo,
Gallileo Figaro - magnifico
But I'm just a poor boy and nobody loves me
He's just a poor boy from a poor family
Spare him his life from this monstrosity
Easy come easy go will you let me go
Bismillah! No we will not let you go - let him go
Bismillah! We will not let you go - let him go
Bismillah! We will not let you go let me go
Will not let you go let me go (never)
Never let you go let me go
Never let me go ooo
No, no, no, no, no, no, no
Oh mama mia, mama mia, mama mia let me go
Beelzebub has a devil put aside for me
For me
For me
So you think you can stone me and spit in my eye
So you think you can love me and leave me to die
Oh baby can't do this to me baby
Just gotta get out just gotta get right outta here
Ooh yeah, ooh yeah
Nothing really matters
Anyone can see
Nothing really matters nothing really matters to me
Anyway the wind blows
Sobre Bohemian Rhapsody
La banda británica tardó casi un mes en grabar la canción completa, además tenían que ensayar sus partes vocales entre 10 a 12 horas al día, excepto John Deacon que decidió no que quería cantar.
Según Thomas Baker, el productor musical, Freddie tenía papeles por todos lados, dibujos, y pequeños 'galileos', todo en papel y lápiz. Parecía un rompecabezas, pero era más organizado de lo que parecía.
Muchos críticos de música dijeron, cuando se dio a conocer, que "Bohemian Rhapsody" no valía ni un centavo.
La canción que destronó a "Bohemian Rhapsody" del podio de las listas de éxito europeas fue "Mamma mía", del grupo sueco ABBA.
Bjorn Ulvaeus,  miembro de ABBA dijo lo siguiente: "Nunca sospechamos que sacaríamos a Queen del top y el hecho de que las palabras 'mamma mía' estuvieran incluidas también en 'Bohemian Rhapsody' fue pura coincidencia".

Apoyar a Queen
Queen está en la posición 27 del ranking de esta semana, su mejor puesto ha sido el 4º en febrero de 2019.

¿Apoyar a Queen?

Ranking SemanalMedallero