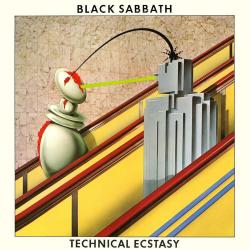 You Won't Change Me
Black Sabbath
La canción 'You Won't Change Me' se estrenó el . Este tema está incluido dentro del disco Technical Ecstasy
LETRA
I'm just a man and I am what I am, yeah
Nobody will ever change my ways
I don't need money and I
Don't need no lies, yeah
I only need to live for today
But I'd like to talk things
Over with you
I want to hear the things
That you say today
Although you won't change me
Anyway. Oh, no way
I wish you'd come and see me
I'd like to hold you
I want to set my mind all free
You understand me, woman
You give me time, yeah
But I don't need no sympathy
Still I wonder what it's
Like to be loved
Instead of hiding in myself
Nobody will change me anyway, no, no way
Nobody's gonna change my world
That's something too unreal
Nobody will change the way I feel
So listen to me now, hear
what I say, yeah
Please, give me time and maybe love
If there's a God up there,well
I hope he helps me
I need him now to set me free
'cause it maybe that it's over for me
If you don't hear the things
That I say today
Nobody will change me
Anyway, no, no way
Nobody's gonna change my world
That's something too unreal
Nobody will change the way I feel.
Más abajo podrás valorar y comentar la canción You Won't Change Me.
Puntuar 'You Won't Change Me'
¿Qué te parece esta canción?
-
0 votos
* Gracias a chuuk por haber añadido esta letra el 14/4/2012.
Comentar Letra
Comenta o pregunta lo que desees sobre Black Sabbath o 'You Won't Change Me'
Comentarios (140)
+ Black Sabbath
Canciones del Disco
Música Relacionada