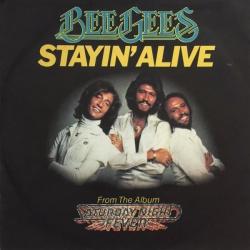 LETRA
Stayin' Alive (Letra/Lyrics)
Well, you can tell by the way I use my walk
I'm a woman's man, no time to talk
Music loud and women warm, I've been kicked around
Since I was born
But now it's alright, it's ok
And you may look the other way
We can try to understand
The New York Times' effect on man
Whether you're a brother or whether you're a mother
You're stayin' alive, stayin' alive
Feel the city breakin' and everybody shakin'
And we're stayin' alive, stayin' alive
Ah, ha, ha, ha, stayin' alive, stayin' alive
Ah, ha, ha, ha, stayin' alive
Well now, I get low and I get high
And if I can't get either, I really try
Got the wings of heaven on my shoes
I'm a dancin' man and I just can't lose
You know it's all right, it's ok
I'll live to see another day
We can try to understand
The New York Times' effect on man
Whether you're a brother or whether you're a mother
You're stayin' alive, stayin' alive
Feel the city breakin' and everybody shakin'
And we're stayin' alive, stayin' alive
Ah, ha, ha, ha, stayin' alive, stayin' alive
Ah, ha, ha, ha, stayin' alive
Life goin' nowhere, somebody help me
Somebody help me, yeah
Life goin' nowhere, somebody help me
I'm stayin' alive
Well, you can tell by the way I use my walk
I'm a woman's man, no time to talk
Music loud and women warm
I've been kicked around since I was born
But now it's alright, it's ok
And we may look the other way
We can try to understand
The New York Times' effect on man
Whether you're a brother or whether you're a mother
You're stayin' alive, stayin' alive
Feel the city breakin' and everybody shakin'
And we're stayin' alive, stayin' alive
Ah, ha, ha, ha, stayin' alive, stayin' alive
Ah, ha, ha, ha, stayin' alive
Life goin' nowhere, somebody help me
Somebody help me, yeah
Life goin' nowhere, somebody help me
I'm stayin' alive
Life goin' nowhere, somebody help me
Somebody help me, yeah
Life goin' nowhere, somebody help me
I'm stayin' alive
Datos de esta canción
STAYIN' ALIVE es una canción de Bee Gees del año 1979, este tema está incluido dentro del disco Saturday Night Fever: The Original Movie Sound Track.
Sobre Stayin' Alive
Ozzy Osbourne es tan fan de la música disco que realizo un cóver de "Stayin' Alive", interpretada originalmente por Bee Gees.
Stayin Alive es un single discográfico de 1977 escrito por los Bee Gees que alcanzó su punto máximo de número 1 en el Billboard Hot 100 y permaneció allí durante 4 semanas!.
Fue lanzado como parte del álbum de banda sonora de 1977 Saturday Night Fever, en el que representa a John Travolta pavoneándose por las calles de Brooklyn, Nueva York.
Esta canción se convirtió en una de las más reconocibles de los Bee Gees.
En 2004, ocupó el puesto número 9 en la encuesta de la AFI 100 años....100 canciones en términos de las mejores canciones de cine de Estados Unidos. El mismo año, "Stayin' Alive" fue colocado No.189 en la lista de las 500 canciones más grandes de todos los tiempos de The Rolling Stone.
Esta canción fue encuestada como la canción favorita de The Nation's Favorite Bee Gees Song en una encuesta de la televisión británica en ITV en 2011.
La gran popularidad de la canción inspiró una afluencia masiva de versiones de todo tipo de géneros diferentes. Vea la portada alternativa de Cereus Bright y la portada Metal de Leo Moracchioli, por nombrar algunas.
Esta canción también ha sido usada en una gran variedad de películas, desde Juego Sucio hasta Bushwhacked, desde que fue usada en Saturday Night Fever.
Según Robin Gibbs: "El tema de 'Stayin Vivo' es en realidad uno bastante serio; se trata de la supervivencia en las calles de Nueva York y la letra dice eso".
¿En qué país tuvo más éxito la canción?. Podría decirse que Italia, el único país donde fue la canción número uno de 1978.