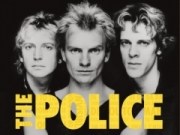 The Police
Letras de The Police
69 canciones disponibles
Más letras de The Police
Mostrar sus 69 letras

Sobre The Police
Copeland dijo: También fue la primera vez que Sting dijo 'al diablo con la fórmula punk'. Sting empezó a tocar la canción y recuerdo claramente a Andy y a mí haciendo ruidos de pedos y diciendo,'Sí, claro'.
The Police no está entre los 500 artistas más apoyados y visitados de esta semana, su mejor puesto ha sido el 306º en diciembre de 2019.

¿Apoyar a The Police?