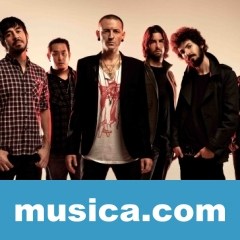 Letras de Linkin Park
Sobre Linkin Park
Su idea inicial era llamar a la banda Xero pero después de pensar varios nombres (entre ellos Hybrid Theory) se decidieron por Linkin Park, un juego de palabras en alusión a Lincoln Park por la multitud de Lincoln parks que hay en Estados Unidos.
Linkin Park está en la posición 156 del ranking de esta semana, su mejor puesto ha sido el 10º en julio de 2017.

¿Apoyar a Linkin Park?

Ranking SemanalMedallero
Antes de pertenecer a la banda, John Hahn se dedicaba a elaborar efectos especiales para las películas.
El álbum Minutes to Midnight fue elaborado de una forma un tanto peculiar: primero se creó la música y posteriormente se escribió la letra para ella.

Antes de dedicarse al mundo de la música, Chester Charles Bennington trabajó en un Burger King.
Chester se ha cambiado el color del pelo numerosas veces: de rosa a morado, después azul, negro, rubio y rojo.
La formación ha cambiado con el paso de los años. Antes de Chester el vocalista era Mark Wakefield y a Phoenix lo suplieron en los tiempos de One Step Closer por Scott Kosiol.
La petición más extraña de un fan fue que le regalaran su vello púbico.

Les divierte autografiar a niños porque lo hacen con marcador indeleble para que no se les borre fácilmente - para disgusto de las mamás -.
Antes de Linkin Park, Chester fue vocalista de la banda Grey Daze.
Después de los atentados del 11 de septiembre del año 2001, la banda donó 75 mil dolares a la Cruz Roja de Estados Unidos.
Chester Benington lllegó a cantar una temporada con los Stone Temple Pilots.

En el año 2004, en plena gira por Estados Unidos, Chester sufrió la picadura de una araña venenosa en el brazo y tuvo que ser ingresado de urgencia para que su vida no corriera peligro.

El primer hijo de Chester se llamó Draven Sebastian Benington, en honor al personaje protagonista de la película El Cuervo (1994).

La banda ha formado parte de las bandas sonoras de famosas sagas de cine: Twilight y Transformers.
Preguntado en cierta ocasión sobre qué hacía para cuidar su voz, Chester contestó que "nada en absoluto".
Hay una leyenda urbana que dice que Chester se baña en leche de cabra antes de cada concierto.
Linkin Park está en contra de la política y sus canciones nunca hacen referencia a nada que tenga que ver con ello.
Mike Shinoda también es pintor y diseñador.
La banda declara que sus mayores influencias musicales son Red Hot Chili Peppers, Deftones, Rage against the machine, New Order, Stone Temple Pilots y Black Eyed Peas.

Chester ha pasado de tener agrios enfrentamientos con Corey Taylor, vocalista de Slipknot, a hacerse buenos amigos.

Linkin Park ha tocado multitud de géneros a lo largo de su carrera: rap, rock, metal, electrónica, dubstep y pop.

Chester y su mujer Samantha han diseñado ropa para The Replican Clothing Corporation una marca propiedad del líder de KoRn y el de Orgy.