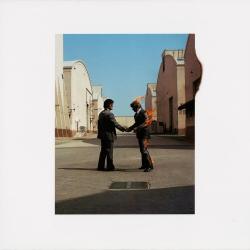 Wish You Were Here
Pink Floyd
LETRA
So, so you think you can tell
Heaven from hell
Blue skies from pain
Can you tell a green field
From a cold steel rail?
A smile from a veil?
Do you think you can tell?
Did they get you to trade
Your heroes for ghosts?
Hot ashes for trees?
Hot air for a cool breeze?
Cold comfort for change?
And did you exchange
A walk on part in the war
For a lead role in a cage?
How I wish, how I wish you were here
We're just two lost souls
Swimming in a fish bowl
Year after year
Running over the same old ground
And how we found
The same old fears
Wish you were here
Más abajo encontrarás canciones relacionadas con Wish You Were Here.
Puntuar 'Wish You Were Here'
¿Qué te parece esta canción?
4,69
205 votos
* Gracias a Encuestas por haber añadido esta letra el 14/2/2010.
Comentar Letra
Comenta o pregunta lo que desees sobre Pink Floyd o 'Wish You Were Here'
Comentarios (270)
+ Pink Floyd
Canciones del Disco
Música Relacionada