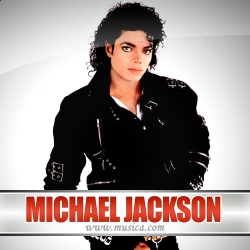 Letras de Michael Jackson
Sobre Michael Jackson
Michael Jackson nació con color de piel negro, color de piel que se fue aclarando con los años sin ninguna explicación. En los medios de su época se especuló con que se había sometido a una operación de blanqueamiento de piel. Sin embargo, Michael Jackson y sus médicos aclararon que padecía una enfermedad llamada 'vitíligo' que destruye la melanina de la piel.
Michael Jackson está en la posición 77 del ranking de esta semana, su mejor puesto ha sido el 1º, siendo su primera vez en junio de 2009 y la más reciente en agosto del mismo año.

¿Apoyar a Michael Jackson?

Ranking SemanalMedallero
Michael Jackson era famoso por su altruismo. Posee el récord en el libro Guinnes por ser el artista que ha realizado mayor número de obras benéficas de la historia. Michael lucía las siglas 'CTE' en todas sus chaquetas y camisetas. Eran las iniciales de 'Children of the Earth' ('niños de la Tierra').
En 1985 Michael Jackson rescató a un chimpancé de tres años de un centro de investigación del cáncer en Texas. Le puso de nombre Bubbles Jackson y el artista reveló que dormía en una cuna y le dejaba usar su baño. A veces incluso le dejaba ayudarle en las labores domésticas.
Michael compró los derechos de las canciones de los Beatles. Tras casarse con la hija de Elvis Presley, Lisa, el matrimonio reunió los derechos de autor más valiosos de la historia de EE.UU.
Jackson tiene dos estrellas en el Paseo de la fama de Hollywood e ingresó dos veces en el Salón de la Fama del Rock and Roll. Primero se lo otorgaron como miembro de los Jackson 5 y luego por su carrera como solista.

Michael Jackson era fanático de los superhéroes. Intentó protagonizar una película de Spiderman e hizo que le fabricaran una réplica a su medida del traje original de la película Batman.
¿Cuál fue la causa de la muerte de Michael Jackson?

Fue un homicidio involuntario. El 25 de junio de 2009, Michael Jackson murió a causa de una intoxicación aguda de propofol y benzodiazepina en su casa de Bel-Air (Los Ángeles). Su médico personal Conrad Murray fue declarado culpable de homicidio involuntario por suministrarle las medicinas sin el monitoreo especial de las mismas.