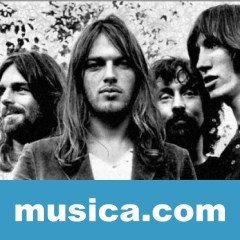 Letras de Pink Floyd
Sobre Pink Floyd
En su épca más psicodélica, Syd Barret era un consumidor compulsivo de LSD. Tan era así que los que visitaban su casa tenían miedo de beber cualquier cosa que les ofreciese, incluso agua del grifo.
Pink Floyd está en la posición 317 del ranking de esta semana, su mejor puesto ha sido el 68º en octubre de 2016.

¿Apoyar a Pink Floyd?

Ranking SemanalMedallero
Bajo los efectos del LSD, Syd Barret creó todo un abanico de nuevos sonidos que hicieron destacar a la banda por encima de otros grupos londinenses de la época y despertar admiración entre artistas de la talla de Paul McCartney, Eric Clapton o David Bowie.
El primer disco de la banda, "The Piper at the Gates of Dawn", se grabó en los estudios de Abbey Road en 1967; al mismo tiempo, los Beatles estaban grabando el "Sgt. Pepper's Lonely Hearts Club Band". El grupo quiso conocer a los de Liverpool y accedieron a la grabación de "Lovely Rita". Dicen que a Syd Barrett no le gustó.
A pesar de que su música siempre estuvo asociada al uso de sustancias psicotrópicas en realidad, salvo Syd Barret, el resto de componentes del grupo solo llegaron a experimentar con el LSD.
Stanley Kubrick les pidió permiso para utilizar "Atom Heart Mother" como banda sonora de la película "La Naranja Mecánica". Sin embargo éstos se negaron al conocer su intención de descomponerla para usarla a lo largo del filme.

El perro Seamus no pertenecía a ningún miembro de la banda - Gilmour se lo cuidaba a Steve Marriot, guitarrista de Humble Pie, durante una gira -. Un día Gilmour se percató de que Seamus aullaba cada vez que alguien tocaba la armónica y decidieron incluirlo en el disco.
La primera guitarra que tocó David Gilmour se la pidió prestada a su vecino. Todavía no se la ha devuelto. Y eso que tiene una colección que supera el centenar, incluyendo una Fender Stratocaster con número de serie #0001.

"The Dark Side of the Moon" es el tercer álbum más vendido de la historia de la música. Una de cada doce personas del planeta posee este disco.

El álbum The Dark Side Of The Moon estuvo en las listas de álbumes más vendidos de Estados Unidos durante casi 14 años consecutivos.

La banda llegó a contratar a una persona cuyo único cometido era decir "no" a todas las peticiones de entrevistas durante la gira de Dark Side. La idea era crear una atmósfera enigmática entorno al grupo.
Alan Parsons recibió un Grammy por su labor en la producción del "Dark Side of the Moon". Por entonces aún no había iniciado su carrera musical.

En 1975, durante la grabación del albúm "Wish you were Here", una persona de aspecto extraño, gorda y de cabeza y cejas rapadas, se coló en los estudios de grabación de la compañía EMI. Finalmente, Richard Wright reconoció a su antiguo compañero de grupo, Syd Barret, y se lo hizo saber al resto de la banda. Al verle en aquel estado lamentable, David Gilmour y Roger Waters no pudieron contener sus lágrimas.

En 1980, un DJ de una radio neoyorkina descubrió que reproduciendo al revés el tema "Empty Spaces" del disco The Wall se podía escuchar un mensaje oculto con la voz de Roger Waters: "Congratulations, you have just discovered the secret message. Please send your answer to 'Old Pink', Care of the funny farm, Chalfont... Roger, Caroline's on the phone", que podría traducirse como: "Felicidades, acabas de descubrir el mensaje secreto. Por favor envía tu respuesta al 'Viejo Pink', cuidador del rancho divertido, Chalfont...Roger, Carolina al teléfono".
'Delicate Sound of Thunder' es el primer disco de Rock que se ha podido escuchar en el espacio. Concretamente fue la nave soviética Soyuz-TM7 la que llevó a bordo la cassette el 26 de noviembre de 1988.

Pink Floyd fue la primera banda que empleó el sonido cuadrofónico, una versión primaria de lo que hoy es el sonido surround, en sus conciertos.
Existe una larguísima rivalidad entre Gilmour y Waters. El primero acabó ganando un juicio para hacerse con todos los derechos del grupo y todo lo relacionado con él. Por su parte, Waters se quedó con todos los derechos teatrales de The Wall. Finalmente acabaron haciendo las paces y se reunieron en julio de 2005 para tocar con toda la banda en el Hyde Park de Londres en el Festival Live 8.
El nombre de la banda, Pink Floyd, fue ideado por Syd Barret y viene de la unión de los nombres de dos músicos de blues de Georgia: Pink Anderson y Floyd Council.
Roger Waters, Nick Mason y Rick Wright se conocieron en 1965, en la escuela de Arquitectura de Rojen Street.
Para grabar su obra cumbre, el grupo se encerró después de una gira americana. Primero pensaron en llamarla 'Eclipse', siguiendo su línea de títulos relacionados con el espacio, pero finalmente quedaría como 'The dark side of the moon'.